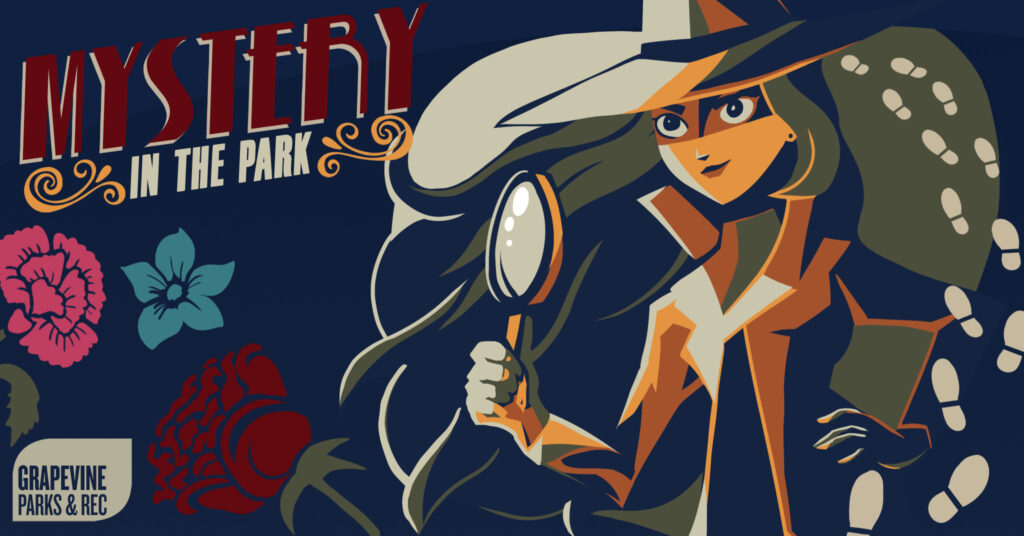 Join Grapevine Parks & Recreation as we partner with Grapevine Escape at the Botanical Gardens to figure out WHO DONE IT!?!? During this unique, award-winning event, you will get the opportunity to play detective and roam through the gardens to find out who the real culprit is. Each scene and clue you stumble upon will bring you only closer to uncovering the truth! There will be two plot lines you can choose from, Fidget PI, for families of all ages, and Take a Chance, for ages 13 years and older.
Time: All ages 4:00; 13 and older 7:00pm
Location: Botanical Gardens at Heritage Park – 411 Ball Street, Grapevine, TX 76051
Fee: Grapevine Residents – Ticket sales begin 5/9- $10 Per Resident  
Non-residents- Ticket sales begin 5/16- $15 Per Non-resident  
Synopsis:
Take A Chance by Patsy Daussat- Ages 13 year and older
The co-owner of a casino and star of a Vegas style show, Lewy Lemont, is having a very bad night. Inside – the show will be starting soon, but outside – craziness surrounds him. Lewy tries to keep his employees in line before the curtain. Meanwhile, his "bank" arrives to collect a "debt". Desperate to avoid the cement shoes, Lewy comes up with a plan. Does his plan include a murder, or shall we say, murders? Or is that someone's else's diabolical plan? Does the crystal ball predict it? Can you figure out who, why and how this whole night turns tainted?
Fidget P.I. and The Case of the Missing Gems by Amber & Russell Sebastian and Patsy Daussat- Great for all ages!
Fidget, Sunshine and Milo are visiting the Grapevine Botanical Gardens when they run into their good friend, Mr. Sulvester. He is super excited to show them the new shiny rocks he recently acquired when suddenly he realizes they are missing! This is a case for Fidget P.I.! Can you help Fidget, Sunshine and Milo interview some people in the park to solve the case of the missing rock gems?
***Tickets are priced per person***
Choose When You'd Like to Solve the Mystery