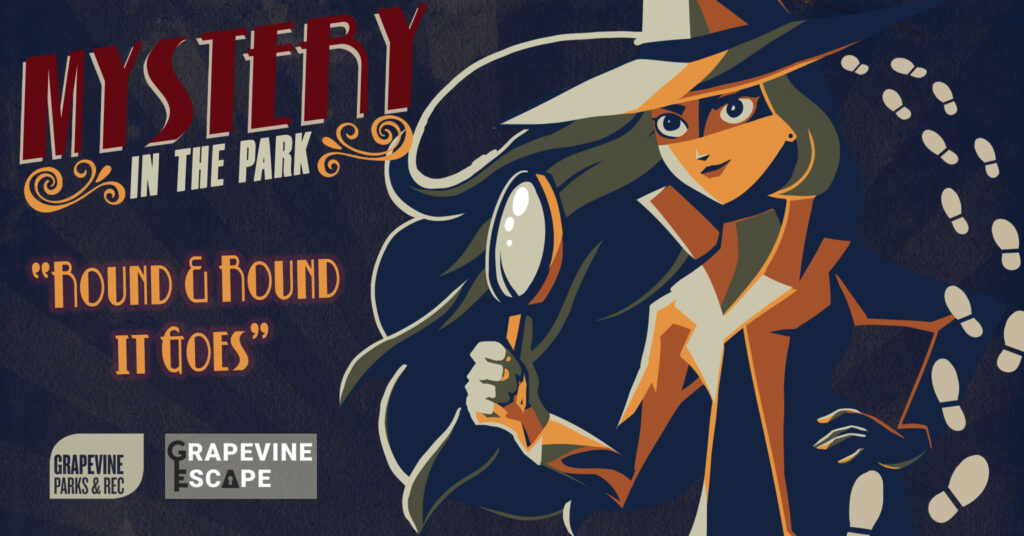 Join Grapevine Parks & Recreation as we partner with Grapevine Escape at the Botanical Gardens to figure out the new Mystery in the Park! During this unique, award-winning event, you will get the opportunity to play detective and roam through the gardens to find out who the real culprit is. Each scene and clue you stumble upon will bring you only closer to uncovering the truth!
Date: Saturday, April 22
Times:
11:00 am – 12:45 pm
2:00 – 3:45 pm
5:00 – 6:45 pm
Location: Grapevine Botanical Gardens, 411 Ball Street
Fee:
March 13, 2023: Grapevine Resident tickets go on sale – $10 Per Person – using code GPVRES at checkout
March 20, 2023: Non-resident tickets go on sale – $15 Per Person
The Mystery: Round and Round it Goes
What seemed like a normal start to the day at the carnival changed drastically when a tragic accident occurred. Greedy McCarnie, the carnival owner, has just fallen from the Ferris wheel! 911 has been called and Greedy was taken to the hospital. Will Greedy be okay? How did Greedy fall? Bring the entire family as we explore the gardens, scene by scene to undercover the clues of this mystery. Please note this is an interactive event so there will be a combination of sitting, standing, and roaming when we are moving throughout the gardens.
***Tickets are priced per person***
Choose When You'd Like to Solve the Mystery