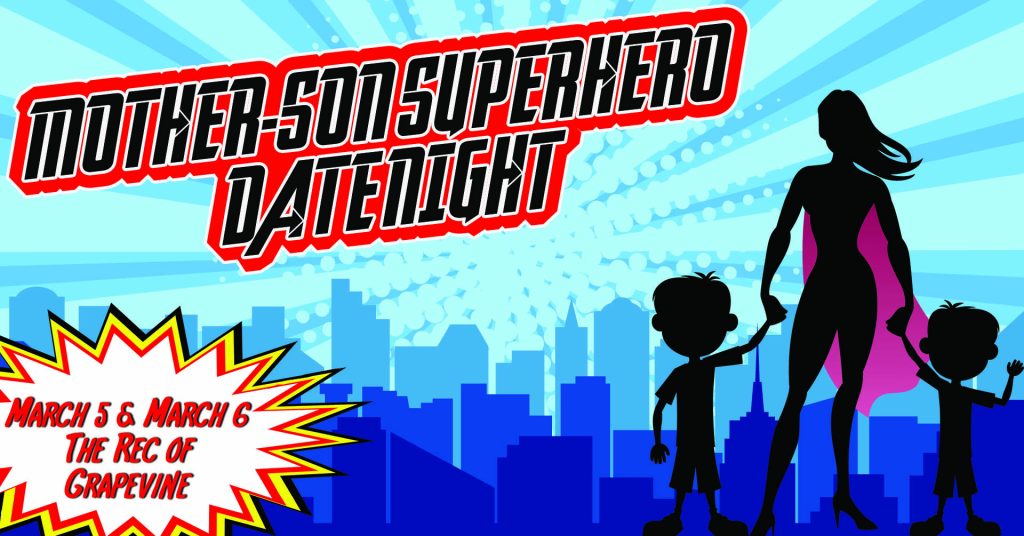 It's time to save the day! Superheroes and their sidekicks are needed urgently for a fun night of showing your best superhero skills and putting their gadgets to the test! You never know what bad guy you will find around every corner! Spend a heroic evening dressed up as your favorite superhero with us. All tickets must be purchased prior to the event by Wednesday, March 3. The fate of the world depends on you!
LOCATION: PLEASE NOTE LOCATION CHANGE:
The REC of Grapevine
1175 Municipal Way
Grapevine, TX 76051
DATES: Friday, March 5 and Saturday, March 6
AGES: Mothers and sons ages 2 – 18
TIMES:
3/5 – 6:00pm and 7:30pm
3/6 – 2:30pm, 4:00pm, 6:00pm, and 7:30pm
TICKETS: Residents $10/person with code GPVRES at checkout (sales begin 2/1) | Non-residents $20/person (sales begin 2/8)
**Please note: tickets are priced per person, not per group**
MODIFIED DATE NIGHT DETAILS:
This event will consist of 1-hour time slots with a 100 people total which will be broken up into stations of approximately 20 attendees per station. Each station will last 10 minutes, then groups will rotate to the next station until they've gone through all of the stations. Attendees will be pre-assigned to a station and given their station name at check-in, then directed to their starting station by event staff. At the conclusion of the event, each individual room will exit separately to reduce the amount of contact with other groups.
COVID-19 SAFETY PROTOCOLS:
Grapevine Parks and Recreation has implemented a number of measures to reduce the risk of spreading COVID-19. Please see the list below for more information:
Masks are required to be worn for ages 10+ at all times except when consuming food or beverage.
As you enjoy this event, please maintain a safe social distance of 6ft apart from other groups, in accordance with CDC guidelines.
Automatic hand sanitizer stations will be placed throughout the event space. Please feel free to use these stations when, and as often as needed.
All event staff and vendors are required to wear masks while inside the event grounds.
Please Choose When You Will Save the World