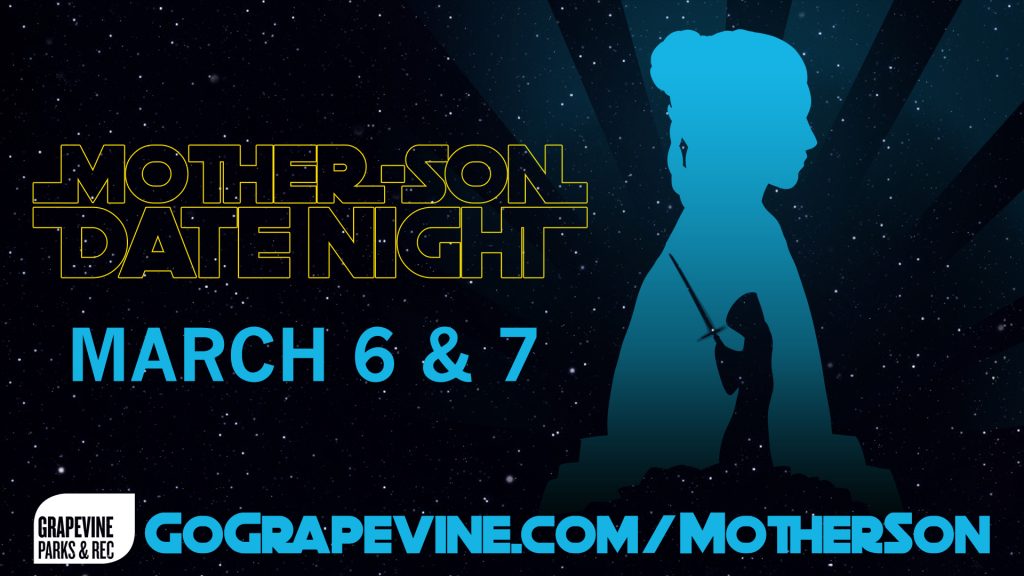 ***IF YOU CAN'T FIND YOUR TICKET CONFIRMATION EMAIL, PLEASE CHECK YOUR JUNK/SPAM FOLDER***
In a galaxy far far away Mothers and their sons are summoned to attend a secret Jedi training!
These Padawans will train in the ways of the Force and invade the dance floor, show off their Jedi moves, take photos and put their skills to the test against the dark side. In order to make sure the rebels are adequately equipped for Jedi training please notify the council by purchasing your tickets through the galactic empire at the cost of 15 Imperial Credits for residents ($15) and 20 Imperial Credits for non-resident ($20). Make sure you wear your Star Wars attire to wield your lightsaber in training!
Space is limited.  Tickets WILL sell out quickly, and

will not be sold at the door

. The fate of the galaxy depends on you! May the force be with you.
Date: Friday, March 6 & Saturday, March 7, 2020
NEW Location: Abundant Life – 1520 W Wall St, Grapevine, TX 
Time: Friday 7:00 – 9:30 pm (SOLD OUT), Saturday 3:30 – 6:00 pm (SOLD OUT), Saturday 7:00 – 9:30 pm (SOLD OUT)
Fee: $15 Per Resident (using coupon code GPVRES) $20 Per Non-Resident
Ages: 2-18 year old boys
Registration Deadline: Wednesday, March 4
Additional Information: Dinner and dessert will be provided; full menu will be emailed closer to event with gluten/dairy free options.
Activities Include:
Make Your Own Yoda Ears
Battle Blasters (Laser Tag)
"Light Speed Limo Rides"
Photo Booths
Jedi Training Course
Live "Mos Eisley Cantina Band"
Hyperspace Hoopla Dance-off
Classic Star Wars character photo ops
"Death Star Donut Wall"
***IF YOU CAN'T FIND YOUR TICKET CONFIRMATION EMAIL, PLEASE CHECK YOUR JUNK/SPAM FOLDER***
Dinner Menu: Mos Eislian Flare (Tex-Mex)
Chicken Quesadillas
Build-your-own taco bar with ground beef, chicken, sour cream, cheese, mild salsa, shaved lettuce, and corn (gluten free) or flour tortillas
Cilantro Lime Rice
Mexican Style Pinto Beans
Diced Mixed Fruit
For all ticketing questions, please email us or call The REC of Grapevine at 817.410.3450.
Interested in volunteer opportunities with us?  Please contact Cindy Harris or click the button below to sign up.
Tickets are sold out and we are no longer able to accept wait list requests as the list is full for each time slot.